Bee Removal Ringwood
Bees are magnificent, they range in very tiny sizes, less than 2mm to quite a large size of 38mm. There is a large variety of bees which range in different colors such as black, brown, or dull black, others are glowing yellow, red, or bright green or blue. Other than their impressive physical attributes bees are also known for the vital role they play for the environment. Therefore, exterminating a bee is not a good idea, rather bee control Melbourne is taking steps to relocate the bee hives to safer places.
Bee removal services can help in removing bee infestation in your home or business. Depending upon where the bee hive is nested, appropriate steps are taken by the pest control services. Pest control Melbourne services are well-trained professionals who are aware of the dos and don'ts about bees. A swarm of bees can be dangerous and can sting if they sense danger. A bee sting can be very painful and, in a few cases, can call for medical attention.
Types of bees found in Ringwood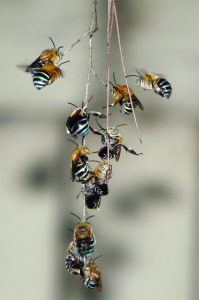 Australia is home to a large variety of bees, out of 20,000 known species of bees in the world, over 1,600 species are found in Australia itself. However, most of these species are solitary bees and only a few species live in colonies. Very few of these produce honey. Therefore, to foster honey production in Melbourne, European or Western Honey bees have been brought from Europe. The European Honey bees are known for their immense honey production. They consist of a queen bee, professional bees, and worker bees, which collect nectar and produce honey.
Our Bee Control Process
Bee control services in Ringwood make use of eco-friendly ways to remove a bee hive and hand it over to a beekeeper which is then safely relocated to an appropriate place where they can thrive without being harmed. Since bees play an important role in maintaining an ecological balance therefore pest control services aim at relocating them rather than exterminating them.
Why choose us?
State licensed and certified technicians
Flexible service with no annoying contracts
Guaranteed satisfaction
Highly trained professionals
Personalized and tailor-made solutions
Environmentally friendly treatment
Excellent customer service
Safe and effective pest control services
Budget-friendly pest control services in Melbourne
Use of state-of-the-art equipment and latest technologies
Experienced pest control services guaranteed
In-house quality assurance
Feel free to get in touch with Bees removal services in Ringwood if you wish to avail of bee removal services or are looking for any additional information. Call Bees Removal Melbourne at 1300 997 272 and we would be happy to assist you.